Hi, I'm Nastasia Gendreau
I was born in France and spent my formative years in  Brittany. I later moved to the Netherlands where I spent a number of years. I subsequently traveled through Asia and Africa and settled in the Caribbean for 6 years after which I moved back to Rotterdam.
During my time in the Netherlands I spent 4 years studying the art of jewelry making  at De Vakschool in Shoonhoven considered "THE" Goldsmith school.
I started making jewelry as a small child with nothing more than sea shells, but I would forget to clean them out which added another dimension – a terrible odor.  It wasn't a success yet!
As time went on I discovered fimo clay and began making strange shaped necklaces full of vivid colors. They were more like shirt collars and yet they aroused interest and I started to get requests for custom made pieces. I still wasn't aware that the craft of a Goldsmith existed.
When I did, almost by accident, and, there was a school to teach the art, I knew this would be my vocation.
This pursuit took me back to France (Paris this time) where I was privileged to fulfill an internship with the legendary jewelry and glass designer Agathe Saint-Girons.  I worked from my home  temporarily and  also worked out of a studio in Curacao. I opened my first physical Izao location in the summer of 2020 when I got back in Holland. Unfortunately I had to leave the building but this gave me the opportunity to open an even greater shop in the beginning of 2022. This is where you can find me nowadays!
The more I commit to my work the more inspiration I have. Anything and everything around can inspire me;  A thought, shape, color, fashion, nature or maybe even a feeling..
I'm always attracted to what we largely term as Ethnic design because when one sees it is handmade and understands the techniques used you can often recognize it's origin and invariably tells a story.
A little glimpse inside the shop!
My little shop, where all the magic happens!
Everything is handmade, from A to Z, and it all happens here in my studio.
You are always most welcome to come and have a look for yourself,  but if you can't, here's a little impression of the jewelry making process.
I hope to see you soon!
Craftsmanship
All the jewelry has been made by me using different techniques. Often crafted directly in silver or gold and sometimes first carved in wax, then casted. Most pieces are unique or made in (very) small editions.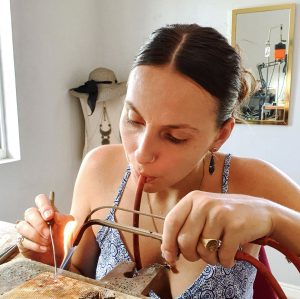 Custom made
It is possible to have a unique piece made especially for you. If you feel attracted to a certain model and wish something similar with the gemstone(s) of your choice please let me know. I take great pleasure in making custom jewelry.
If you don't know exactly what you want I will help you design a piece. This way we can make it even more personal.
Please feel free to contact me through e-mail so we can discuss all possibilities.
Sky is the limit!
For a little inspiration have a look at the Bespoke Jewelry page!
Recycled
Izao jewelry is mostly made of silver 925, gold 14 & 18kt and gemstones.
The silver and gold I use are recycled. It is possible to use your own "old" jewelry for custom made pieces. For more information please send me an e-mail.
The gemstones  used are natural although this doesn't mean they haven't endure any kind of treatment. For example some stones are heated to enhance color or filled with oil to hide inclusions (just to mention a few). What I can guarantee you is the use of minerals made by Mother Earth, no synthetic man made stones. Therefore you will often find inclusions in my designs. It's the way it came from the earth and I like it!
Jewelry is like a biography A story that tells the many chapters of our life...